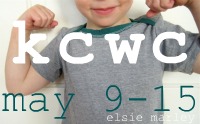 I have another challenge on my hands! 31 Days to Clean and Kids Clothes Week are probably going to conflict, but I am going to try to do both anyway! 😀 Kid's Clothes Week is a sewing challenge to sew kid's clothes at least an hour a day. I have made a list of things I can work on through the week. We will see how far I get on my list. Really, the list is just a guide and I do not expect to get ALL these items sewn up in seven days! (but hopefully I can make a good sized dent!)
Richie:
4-5 pr. of shorts
2pr. pants
1-2pr Tinkle Time Trainers (3 wasn't enough)
Lillon:
2 nightgowns
3-4 pr. shorts
swimsuit ( I want to make one of these for me, too, but not this week!)
Nothing for Eden…poor deprived child! 😉
I would also like to sew a couple pairs of baby shoes for a friend of mine!
For day one, I didn't actually do any sewing. I did cut out 5 pair of shorts for Richie out of a pile of jumpers I got on bag day at our local thrift store. I am hoping  to get some more shorts  cut out tomorrow from the same pile for Lillon…and actually do some sewing!
For Richie's shorts, I am using New Look 6641. I made him some pants last week from this pattern and it was so easy to work with. I added some cool pockets and topstitching. He wore them to the conference we were at last weekend and no one noticed they were handmade. (I did have some one ask if I had made the dress Lillon was wearing-it was one of my winter projects.)
For Lillon's nightgowns and shorts I might use Butterick 4176. My other options for a nightgown are a long version of The Scientific Seamstress Raglan Tee or the New Look pattern I am using for Richie's shorts. It has a tee and a nightgown option, too. I think I am going to have a hard time making up my mind on this! If I get to the swimsuit, I will be using Jalie 3023.
This should be a fun week!